Welcome to the Toronto Therapy Network !
(We are also known as "Therapy Toronto" and as "Psychotherapy Toronto")
Discover some of our therapists!
Click the photo to visit their page!
Home to about 45 therapists, we are the most visited professional self-referral source for psychotherapy in Toronto and the GTA (Greater Toronto Area) by psychodynamic therapists providing many forms of relational psychotherapy.
All members of the site are selected on the basis of their skills, experience and attitude. They have met, and maintain, specific professional criteria to meet the requirements of The Toronto Therapy Network.
Find a therapist by: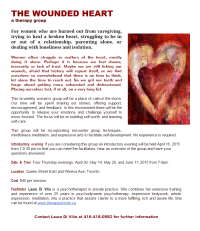 New!
Laura Di Vilio presents: The Wounded Heart: a therapy group for women, starting April 16, (7 - 8:30pm).
Click here to find out more!
Or Use these Toronto Therapy Network Links:
Are you an employer? Find out about our innovative and inexpensive workplace solutions!
Got Questions? Just ask Us! And when you write, include your phone number if you wish to be called.