Mike Hynes
BSc, RP, Dip.PEB, Member CAPT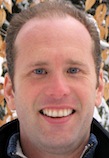 Mike@therapytoronto.ca
Bloor-Christie
647-723-5274
ext. 228
Professional Development Record
Education
Dip. Psychotherapy and Emotional Bodywork, Institute for Psychotherapy and Emotional Bodywork, Toronto
Visionary Craniosacral Work Certificate (in process)
Masters in Therapeutic Counselling – in process
Hons. BSc Psychology Specialist and Exceptionality in Human Learning Major – University of Toronto
Workshops / Conferences as Host
Hosted Toronto Festival of Dreams featuring Marion Woodman, Stanley Keleman, Deirdre Barrett
Workshops / Conferences as Participant
2011 - "Brain, Mind & Body: Trauma, Neurobiology and The Healing Relationship", with Pat Ogden, PhD, Allan N Schore, PhD, Bessel van der Kolk, MD, et al, organized by the University of Western Ontario Department of Psychiatry, October 20-22 in London, Ontario
A Somatic Approach to Dreams by Stanley Keleman
2011 Brief Dynamic Therapy, March-April with other members of the Toronto Therapy Network
Annual Meetings for the International Association of Dreams
Reading
Recent Developments in Psychoanalysis: A Critical Evaluation. Morris N Eagle
Madness and Civilization: A History of Insanity in the Age of Reason. Michel Foucault
Healing the Soul in the Age of the Brain: Why Medication Isn't Enough. Elio Frattaroli
Bone, Breath, and Gesture: Practices of Embodiment. Don Hanlon Johnson (Editor)
Character Styles. Stephen M. Johnson
Emotional Anatomy: The Structure of Experience. Stanley Keleman
The Heart of Listening: A Visionary Approach to Craniosacral Work. Hugh Milne
Personality Disorders Over Time: Precursors, Course, and Outcome. Joël Paris
The World is as you Dream It: Teachings from the Amazon and Andes. John Perkins
Affect Regulation and the Origin of the Self: The Neurobiology of Emotional Development. Allan N. Shore
Worlds of experience: interweaving philosophical and clinical dimensions in psychoanalysis.
Robert D. Stolorow, George E. Atwood, Donna M. Orange
Mind in Life: Biology, Phenomenology, and the Sciences of Mind. Evan Thompson
I generally work with clients at my 2nd floor office near Christie and Bloor but also offer online and phone therapy sessions. Please call to arrange your first appointment and I look forward to hearing from you.